Fantastic Easter Hats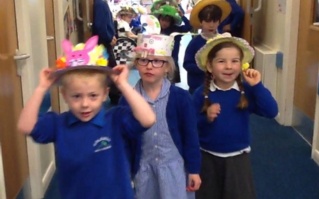 Children in all year groups at Colehill First School took part in an Easter Hat competition on Friday 7th April 2017.
Easter gardens, Easter nests, even Easter themed baseball caps - all of these and more featured in a fantastic Easter hat parade on the last day of the Spring Term. Children from all classes made their way into the hall for a special Easter assembly wearing hats created at home, with just a little help from family members. The ideas were brilliant and every child's contribution was shared with the whole school. At this assembly, we went 'beyond the chocolate' to focus on the real meaning and symbolism of Easter. Well done to all our children!!